HOW TO SUCCESSFULLY EXECUTE A MULTI-PHASED HEALTHCARE EXPANSION & RENOVATION
Doster has a longstanding relationship with Encompass Health, delivering nearly 100 Encompass Health projects in locations across the country. We were asked to partner with Encompass  Health on a complicated renovation within an existing, fully operational facility in Toms River, New Jersey. The 14-phased project would expand and renovate the existing 50-year-old infrastructure into a new 98-bed state-of-the-art rehabilitation hospital and take four years to complete.
During each phase, our team had to relocate hospital staff and patients in order to begin demolition and begin the next phase. There were four main patient wing phases and 10 sub phases that included: Central Basement, Tower Basement, Physical Therapy Gym Part 1 & 2, 1st Floor Admin, Lobby and Vestibule, Main Dining and Kitchen, 2nd Floor, Pharmacy, and 3rd Floor.
Doster approached the project as a partner to the hospital, not as just their general contractor, and successfully delivered the complex renovation on time, on budget, and with no interruptions to the hospital operations over four years of construction. Read on to learn how we overcame obstacles, minimized disruptions, and used innovative tools and techniques to bring the new Encompass Health Rehabilitation Hospital of Toms River to life.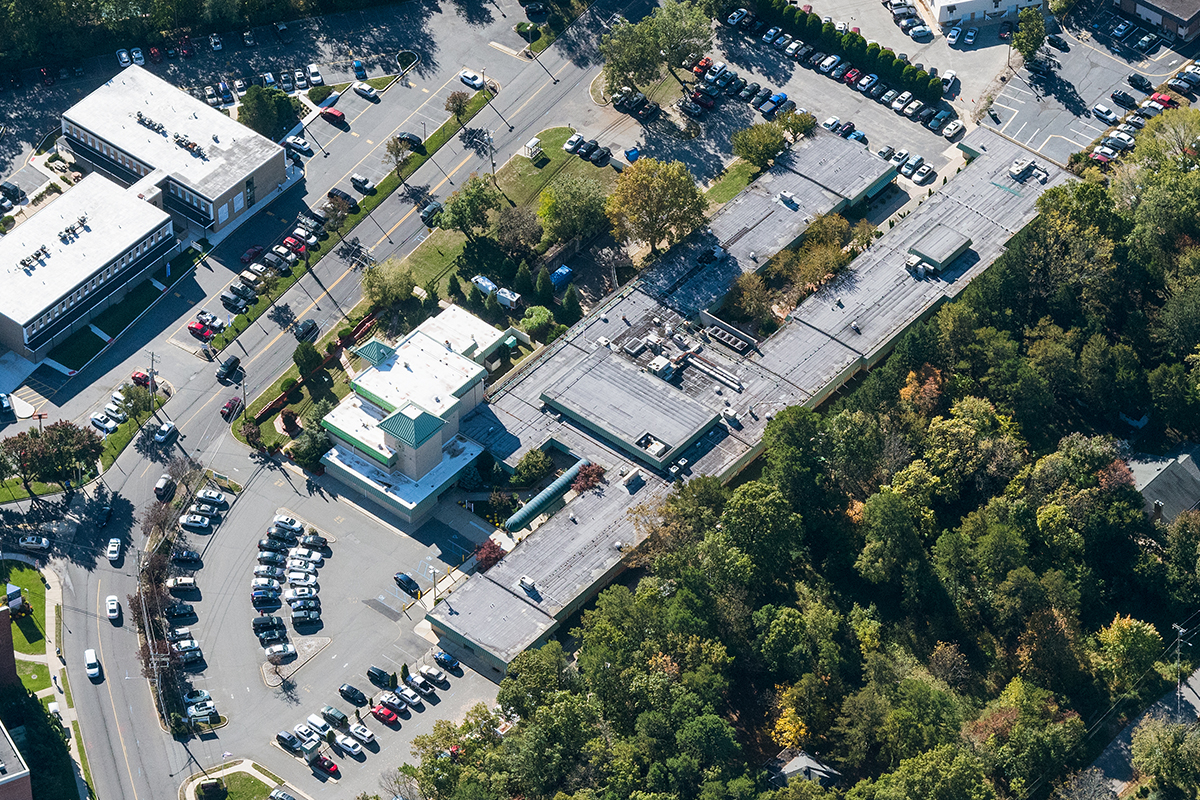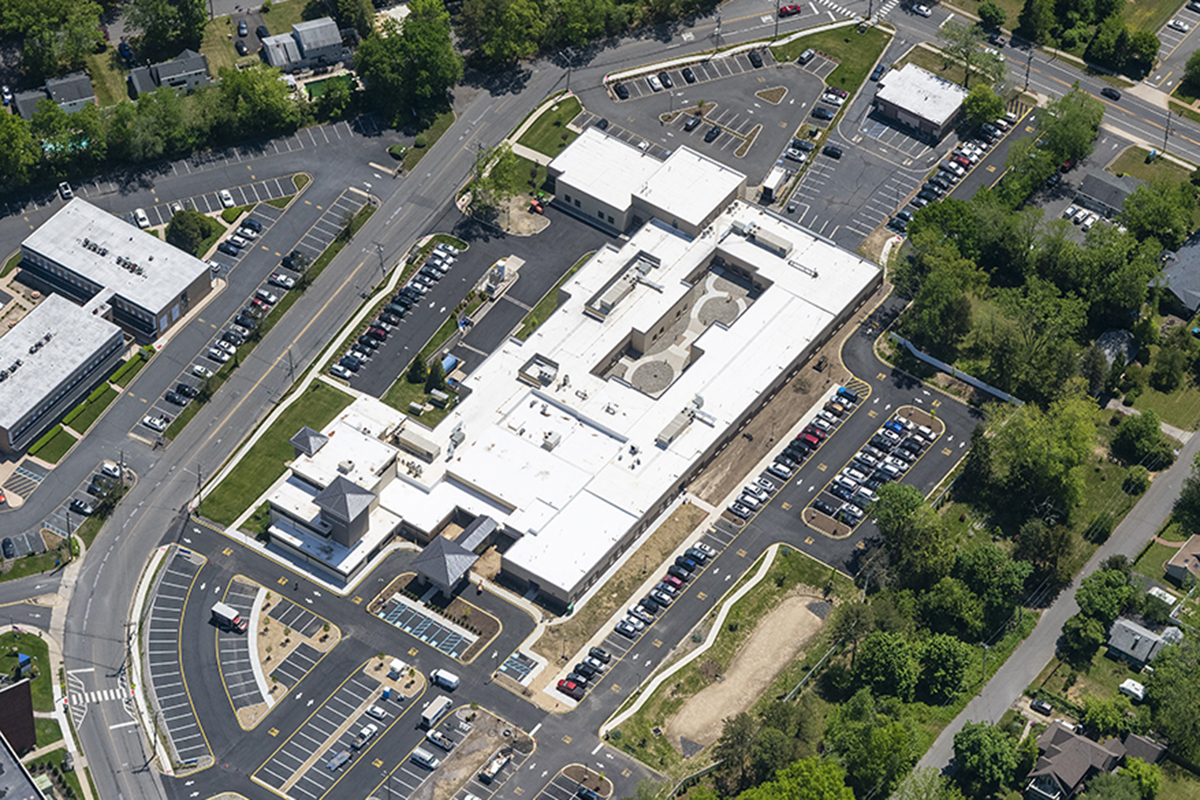 "The entire Doster Construction team that worked on our hospital project in Toms River, NJ was truly outstanding. Their professionalism, innovation, and passion for construction was key in the success of this project. The demolition and reconstruction of a fully operational inpatient rehabilitation hospital building was an incredibly challenging feat. We are grateful to have Doster Construction as a partner throughout this multi-year project. Our staff, patients, and visitors are overjoyed with the accomplishment of our beautiful new hospital campus". 
EARLY PLANNING WITH THE ENTIRE TEAM
Doster established an initial SD budget in conjunction with Encompass Health, the architect, and engineers.  Throughout the design process we diligently reviewed the plans and specifications, as well as developed a phasing plan which would work with the new infrastructure.  Our trade partners were also integral in creating and executing the phasing plan.
While developing the phasing plan, Doster made numerous site visits to speak with administrators and staff regarding their daily operations (Fun fact: The Project Director made 57 flights from Birmingham to New Jersey to ensure the project's success.)  This allowed us to fine tune the phasing plan with the end user, all the while keeping the functionality of the facility and the project timeline in mind.  The overall project schedule was created from these efforts and have resulted in very minor modifications as the project moved forward.  Our team is proactive and always keeps the end goal in sight. Because of our forward thinking and planning, we were able to identify potential conflicts well in advance of them becoming problems down the road resulting in schedule delays.
Through detailed planning and close coordination with hospital staff, trade partners, and designers, we were able to successfully maintain full patient census throughout the project duration without a single disruption over a 4-year span.
MINIMIZING DISRUPTIONS TO HOSPITAL OPERATIONS
The biggest challenge throughout construction on this project, and with any multi-phased healthcare renovation, was keeping the hospital fully operational while maintaining the schedule critical path. Through careful and daily coordination with hospital staff, our team was able to execute their work while minimizing disruption to the hospital's operation. In addition to their daily communication, weekly schedule review meetings were held with the hospital staff and the Doster team to coordinate hospital transition of employees and patients.
The partnering approach and open, frequent communication with the team is by far the greatest asset to the success of this project.
OVERCOMING OBSTACLES
Our team faced many obstacles during construction, including battling New Jersey's harsh winters. The project broke ground in October of 2016, and each phase of construction began in the dead of winter for three consecutive years making dry-in very difficult. However, our team of skilled professionals were able to meet every deadline while facing harsh weather conditions.
During construction, the hospital kitchen had to be temporarily relocated to outside of the hospital for more than three months during the winter. Our team worked closely with hospital and kitchen staff to ensure no interruptions were made as they cooked three meals a day for more than 100 hospital patients in a temporary kitchen, all while routing food travel from the temporary building safely around construction.
INNOVATION & TECHNOLOGY
For complex projects and renovations like this one, we use Building Information Modeling to coordinate the Architectural, Structural, and MEP & FP systems to reduce construction conflicts. Our team used overhead Building Information Modeling (BIM) coordination to help ensure each phase through wall penetrations and routing was placed in the correct locations for future phase expansion.
In addition, drone thermal imaging scans were used to help detect roof penetrations and water intrusion. This helped detect damaged areas of roof that had been turned over with prior phasing that still required a high volume of traffic and work due to the future phasing demolition and MEP infrastructure tie-in. While Phase 1 was complete, we still had to access the finished roof of Phase 1 for connection on Phase 2 and 3. Performing the roof scans allowed us to detect puncture areas quickly eliminating the cost of repair and water intrusion.
We also used an aerial photography company and in-house drone pilots to obtain project progress images. Doster's use of drones has proven to be very beneficial for providing images of construction that are difficult to capture from the ground and too detailed to be captured by traditional aerial photography.
Click here to learn more about how Doster uses technology to enhance our projects' success.
LESSONS LEARNED FOR YOUR NEXT HEALTHCARE RENOVATION
As you begin a complex phased healthcare renovation and expansion, first weigh the pros and cons of a heavily phased plan and temporarily relocating patients to another facility during construction. There are many challenges and benefits to each approach and be sure to consider all your options before you begin planning construction.
Including hospital management and impacted department heads, while constructing the phasing plans and internal relocation of staff at the start is also crucial. If the sequence is altered due to the hospital's requirements, make sure everyone buys in on the new phasing plan.
Another key component is including the hospital's human resources department in the process. This allows them to relay the topics of safety, new egress routes and construction zones to all hospital staff and visitors. Including them in weekly meetings with the general contractor keeps the flow of information open throughout all departments and ensures collaboration and partnership and a higher level of quality and safety.
---
Since Doster's founding 50 years ago, over 50% of our construction volume has been in the healthcare field. With over 1,500 projects built, we are consistently ranked among the nation's most active healthcare contractors by Modern Healthcare magazine and have completed healthcare projects in 30 states across the country.  Click here to learn more about Doster's healthcare experience.