Doster Construction Company proudly celebrates their Multifamily Division's 20th Anniversary. Doster was founded in Birmingham, Alabama in 1969 by Thomas E. Doster, III working first in the healthcare and commercial markets. In 2000, Doster began their multifamily division with work on several multi-story wood-framed developments in Alabama. One of their first major multifamily projects was the 228-unit Town Village Senior Living development in Birmingham. Work in the multifamily market sector quickly grew as they began working with some of the country's top developers, and Doster would soon be known as one of the leading multifamily builders in the country.
Doster was named as a Top Multifamily Builder by the National Multifamily Housing Council and to date they have successfully delivered more than 20,000 multifamily units to clients across the southeastern United States. Some of their most notable projects include Velocity in the Gulch (Nashville, TN), Main & Clay (Louisville, KY), Peyton Stakes (Germantown, TN), Tapestry at Brentwood Town Center (Brentwood, TN), Iron City Lofts (Birmingham, AL), Southtowne PNJ Apartments (Pensacola, FL), Canopy at Ginter Park (Richmond, VA), 220 Riverside (Jacksonville, FL), Springs at Sandstone Ranch (Longmont, CO), and Birchall at Ross Bridge (Birmingham, AL).
In 2018, the Company reorganized its Multifamily Division and the same year created Doster University to train and develop their employees while focusing on continued growth.  Alan Chandler, Executive Vice President and Project Manager on that Town Village project 20 years ago, said about the direction of the division, "We have improved our delivery, our customer-centric culture, and our brand more in the last two years by training, collaboration, forward thinking construction techniques, and a general professionalism unique to the multifamily sector.  I am very proud of what that group has been able to accomplish and the trajectory of our future."
Today, Doster's Multifamily Division is stronger than ever with more than 60 dedicated team members that have over 500 years of combined multifamily experience. Some of our current projects in progress include Foundry Yards (Birmingham, AL), NOVEL Edgehill (Nashville, TN), The Walcott (Jeffersonville, IN), and Eclipse at City Centre (Huntsville, AL). Doster has been awarded several new projects that are expected to break ground this fall including the Constellation development in downtown Huntsville (pictured below) and two new multifamily developments in Pensacola, Florida.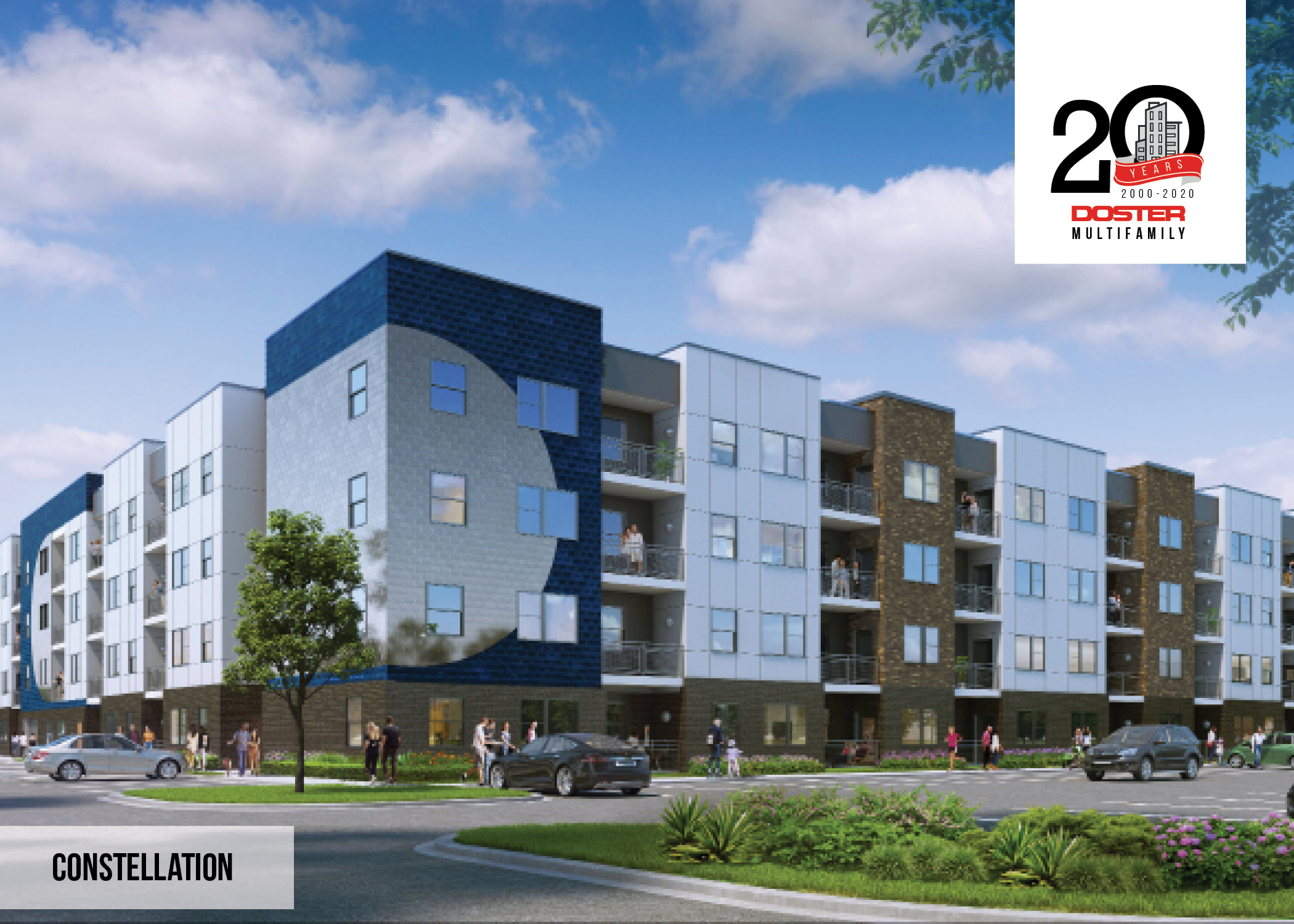 Chris Overstreet, Vice President and Director of Client Services, has been an integral part of the multifamily growth and leadership since 2003.   He says, "The company has been intentional in its efforts to train the future leaders in the group with several five- and ten-year employees who have worked solely in the multifamily industry.  This focus on a unique product type has allowed us to develop more leaders and more teams that can deliver a predictable outcome to our clients."
"Our success over the last two decades can be attributed to the innovation and expertise of our talented multifamily group. I am proud that, today, our multifamily leadership team is stronger than ever, and I look forward to what we will build in this sector in the next 20 years, said Walton Doster, President and CEO of Doster Construction Company.