Always on the forefront of technology, Doster's VDC department offers a wide range of services to enhance your project.
From preliminary designs to 3-D building modeling, prefabrication to virtual reality, technology is paving the way for more streamlined project implementation, with safer, higher quality results.
Building Information Modeling
Doster has adopted Building Information Modeling (BIM) as a part of our construction process. We have found that better planning creates better outcomes. We use BIM to coordinate the Architectural, Structural, MEP (Mechanical, Electrical and Plumbing) and FP (Fire Protection) systems to reduce construction conflicts and rework in the field. Our company has aggressively coordinated complex industrial, commercial, multifamily, education, and healthcare projects.
BIM continues to evolve year after year, and the biggest impact can be observed in the field. Having the ability to look at a project in 3-D and know where all of the components hit each other before a single shovel hits the ground is invaluable. This information means less (or possibly no) field modifications, and companies can prefabricate strategic items and have them fit precisely when they're brought to site.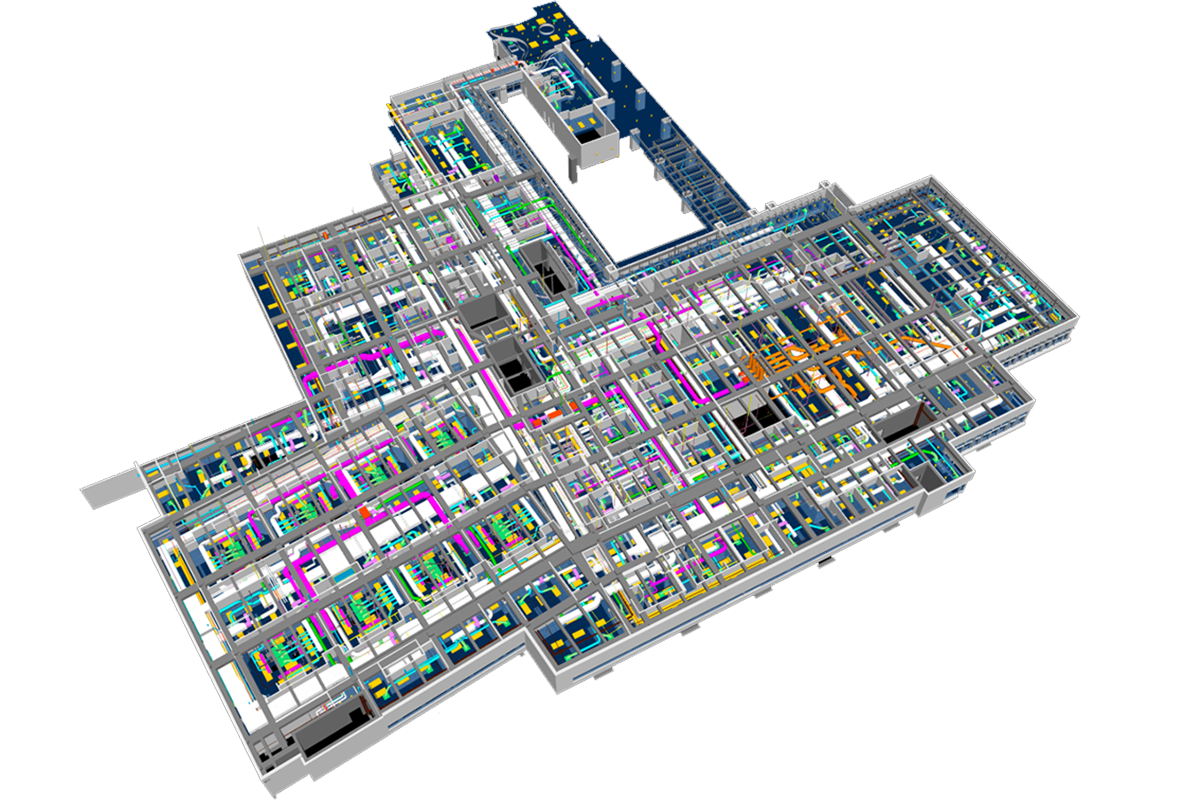 Laser Scanning
Our VD+C team owns and operates a 3D Laser Scanner for existing projects. Our team, in a matter of hours, can measure and document entire facilities to ensure all renovation and refit work truly matches the existing conditions. An accurate record of the existing building enables us to better plan construction activities, prefabricate work, communicate with design teams, and provide accurate as-builts to our Owners.
Laser Scanning at the Van Antwerp Building
The Van Antwerp Building, known as the southeast's first skyscraper, was originally built in 1907. After time, concerns grew over the safety and stability of the building's cornice. The cornice was ultimately demolished and the pieces were used as a fill for a road bed on the Van Antwerp family farm. In 2013, a complete historic renovation began under Doster's management. Part of the renovation included a reproduction of the original cornice. As no drawings or photographs of the original cornice were available, we sent our VD+C team to the Van Antwerp family farm to unearth pieces of the original cornice. The pieces were cleaned, arranged, and scanned with 3D Laser Scanning Technology. Doster's team then assembled the scanned pieces like a puzzle to create a digital, 3D, point cloud reproduction of the original cornice. These 3D representations were used to help create the new reproduction.
latest technology news
Read the latest news and updates from our VD+C department.
Sarah Ramsey
In today's construction climate, technology is no longer an anomaly; it's a necessity. The benefits gained in the industry [...]
Sarah Ramsey
Charles Bradshaw, Virtual Construction and Technology Manager at Doster Construction Company, has seen businesses of all sizes benefit from [...]
Sarah Ramsey
One thing we have learned throughout our almost 50 years in business and 4,000+ projects is that no two [...]